He IS one (little) hunk ;) Jason got me this huge chocolate bar. I need this chocolate bar like a fat kid needs to be at a cake buffet. But, at least I got a cute picture!
***CrAzY eYeS ~ OoGaLiE GoOgaLiE!!***
I love this outfit. My BFF Kristin gave this to me as a "hand-me-down". It is a little gray GAP outfit with a matching jacket.
Jarrett was so happy tonight after he had a POOPIE!
Okay...enough pictures. I'm so ready for my TV shows to come back on. (Vampire Diaries, Fringe, House, etc.) I have nothing to look forward to all week! I've been watching repeats of
Platinum Weddings
on the WE channel. Has anyone ever seen that show? It is crazy how much these people spend on weddings. It is like, if you had all the money in the world & you could spend a TON on a huge party, you would be on this show. "The Perfect Wedding is Priceless". Mmkay...sure, I'd rather buy a house!
Speaking of weddings & dresses. The Seattle Smith's "Wishful Wednesday" topic is:
'I wish' .... I could have worn _____ dress on my wedding day!
I love the designer Aire Barcelona. I think the dresses with the lace are so pretty!
Aren't they pretty? Yes, I know you would probably have to be a skinny waif to wear these! (see models above)
AND,
The Undomestic Momma
has her Top 2 Tuesdays Question.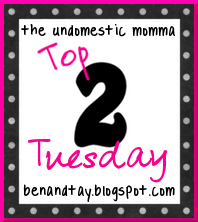 What are your Top 2 Favorite Names?
Well, we obviously love "Jarrett" for a boy ;) But, I had loved the name "Blaine" for a boy too, but it was kinda voted out with my family b/c "Blaine Brown" sounded kinda weird. I still love the name though.
My favorite girls name right now is "Eden". I think it is so enchanting & I love it! You want to know something weird. I started thinking a while back that it would be cool to have triplet girls & name them "Eden", "Ella" & "Esme" (b/c I love Twilight!) I just thought those names sounded cute together. Am I a weird-O?
Jason & I would love to try for another baby SOMEDAY. I hope God will bless us again when the time is right. For right now, we are raising our son & spending precious moments with him. We want him to have his special time with us & hopefully someday in the future we will be blessed again if it is meant to be. There are so many wonderful women I know that are still trying to have one little blessing & we feel so fortunate to have our son. I'm praying for all the women out there every day that are struggling with infertility & are hoping to someday have a baby. I know what it is like. We didn't know if it would happen for us, but we are so thankful it did.